Security Solutions - Contractors & Developers
Licensed & Bonded
Cal. State Contractors Lic. #729944
Security Solutions for General Contractors
Ultimate Security has worked with General Contractors for almost 30 years. We specialize in high definition remote video surveillance (CCTV) IP systems, access control, fire control, low voltage systems and precision wiring.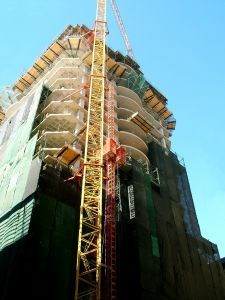 Property Developers & Property Managers
Property Developers & Property Managers need professional-grade security solutions to provide access control that allows construction services, deliveries, visitors and guests to move freely while safeguarding assets.
Whether your project is in a pre-development phase or nearing completion, access control is a critical component at all stages of a project.
Access Control:
Reduces workplace injury and can help you maintain OSHA compliance
Can prevent or even eliminate theft & vandalism


A layered security system that includes remote monitoring, electronic access control, high definition CCTV creates a tangible atmosphere of security, and gives contractors, developers, and property managers more control over a project.
Ultimate Security operates in Northern California and has completed work for Government Agencies, National Defense Contracts, Major Corporations and Fortune 500 companies.
We specialize in retail and grocery store applications.
Ultimate Security offers medium & large Property Development clients a complete range of commercial security systems, business security solutions, business alarm systems, and services, such as CCTV & RFIDs designed specifically for your custom safety needs. Our commitment to you extends beyond our unmatched security protections and into a trustworthy long-term customer relationship.
Ultimate Security risk reduction services including Loss Prevention , Risk Management, and Business Operational Management can all affect the organization's ROI in a positive way.
Ultimate Security not only understands business & commercial security, we also understand the nature of your specific industry and have the products and services to meet those specific industry needs.
Learn More
Additional Ultimate Security Services for Contractors
Networked alarm monitoring centers
Preferred Services Plans are available to meet your business security needs. Let us know how we can tailor a solution to best fit your Business.
Partnerships
When you partner with Ultimate Security Business Security, we work with you closely to help protect your company as it grows. Browse through the commercial security systems and solutions Ultimate Security offers to see how easy and affordable it is to protect your most valuable assets and investments. Then Contact us for an on-site visit by a trained security professional to provide the most optimal security advice.
Discounts are available for multi-system/multi-location proposals.
We'll Contact You
Fill out the form below and we'll get back to you right away.
Contractor/Corporate
Video Camera Survellance Equipment Support & Downloads